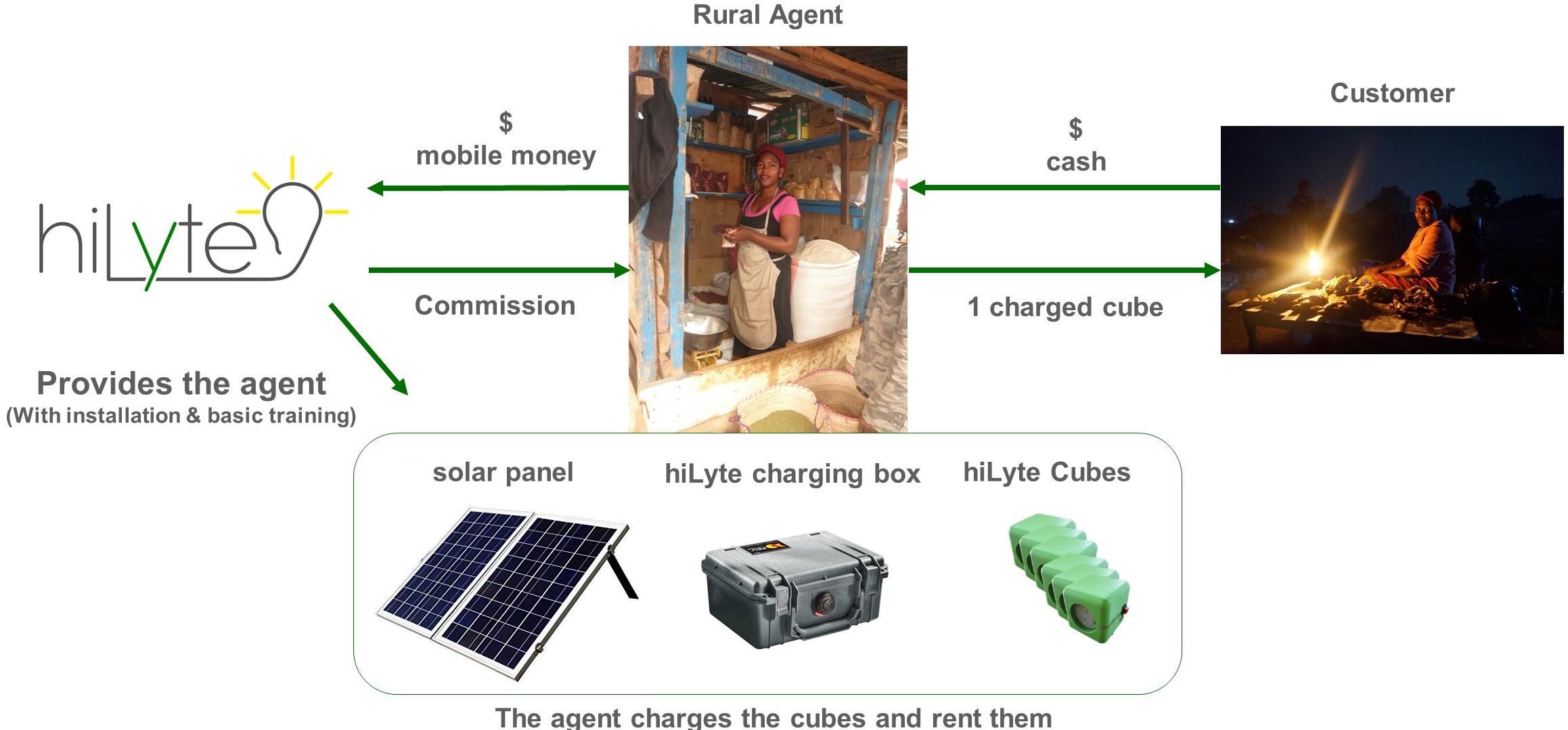 hiLyte provides clean and affordable lighting and phone-charging services to its end-customers in rural communities. We do this by working with agents on the ground who are commonly shopkeepers.
Solar panels, hiLyte charging box and hiLyte cubes are rented to our agents. hiLyte provides these agents with the required installation, maintenance and training to get their business started to provide the charged hiLyte cubes to customers.
Overall, our solutions are designed to bring clean and affordable electricity to rural communities, empowering its people.
Robust, compact, easy to use!
We at hiLyte have developed the hiLyte cube which brings electricity and light to communities in rural Tanzania in a clean and affordable manner. Our solutioins allow end-users to light up their houses and recharge their phones.
We focus on being user-centric. With regular field tests, we are continually improving our solutions to fit the lifestyle and requirements of our clients and end-users. To have constant interaction with our customers, we have formed a local team where we have provided jobs and trained Tanzanians.
hiLyte solar kiosk - optimized charging
hiLyte Smart Plug & Play System
Simply plug and play!
The hiLyte charging system is designed as a plug & play system to be an easy-to-use solution to energy access for rural communities. It consists of solar panels and charging boxes rented to our agents.
With the solar panels, hiLyte delivers clean energy, while the energy management system in the hiLyte charging boxes maximises the use of solar energy.
We are constantly researching to improve our system and regularly working with our agents to help with the installation and maintenance of equipment and get their feedback to provide energy to all.
" Now I can go feed my cows and charge my phone at the same time, it saves me 3 hours per day! "
– Masai, Mwajanga | Shepherd
" When I bring coal to town, the trip is long and with hiLyte, I can keep my phone charged during the whole trip. "
– Elias, Mwajanga | Taxi-motorist
"I take hiLyte every 2 days to get light in the evening, it is great!"
"These lamps help us a lot, don't ever think of taking them out!"
" Hyenas do not come eat our goats since we use hiLyte to scare them in the night."